Youth in Twin Cities Aikido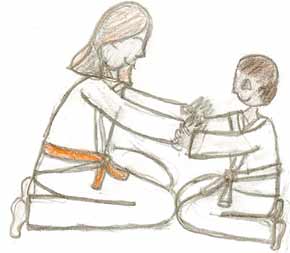 The Twin Cities Aikido youth program is an excellent introduction to the defensive art of Aikido. The students learn basic techniques, as well as physical coordination and mental discipline. There is some basic cross-cultural learning of Japanese. Students learn appropriate dojo etiquette and respect for tradition. The emphasis during class is on respect for each other, self-confidence and cooperation between partners. Generally, the classes are made up of students from seven to sixteen years of age. Parents are invited to participate in the classes or sit and watch. There is a ranking system that includes testing to earn different colored belts.
Getting Started
If you are a beginner to Aikido or someone who wants to see what it's about before you decide to join, the following will help you get started. First, Aikido is a martial art that is a system of defending yourself from an attack. In class you work with different partners. Your partner is not "the enemy" you and your partner work together to learn the Aikido techniques.
The first time you come to class, please complete a registration form with basic information such as name and address and you and your parents will sign a waiver. The waiver serves as a reminder that you will practice safely and not sue the dojo if there is an accident and you are injured.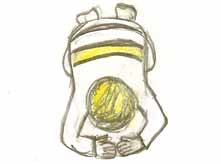 Next you need to have a uniform called a gi, to wear during practice. It is loose fitting pants and jacket that allow you to easily stretch and bend. If you do not have a gi when you start classes or try a class, please wear loose fitting pants and a long sleeved t-shirt. Sweats are perfect to wear. These will allow you to move freely and protect your elbows and knees.
Discipline and etiquette are very important for all during Aikido practice. For example, when we first get on the mat for class, we kneel (sit in Seiza) at the edge of the mat facing our founder, O'Sensei, and bow toward his picture to show respect for him. Then wait for class to start. If you happen to be late for class, sit and bow at the edge of the mat and wait for sensei to invite you into the class. When it is time to work on a technique, find a partner, bow and ask them to practice with you. When you are finished practicing a technique always thank your partner. There is more to etiquette, but this is a good start.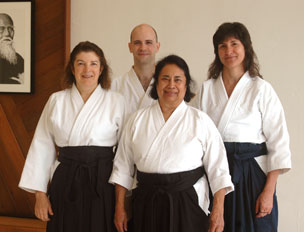 Youth class instructors
The Chief Instructor, Youth Programs, is Kathy Aguilar-Downing (center). She teaches the Saturday class at 10 AM and is assisted by May Lane. Vickie Selep teaches the Thursday evening class at 6 PM assisted by various other adult parents. Mick Cipra teaches the Wednesday evening class at 4:15. When these instructors are on the mat, always address them as Sensei Kathy, Sensei Mick, Sensei Vickie, or Sensei May. There are often other adults on the mat during class to help you. Listen to them all very carefully. Safety is very important and is everyone's responsibility. Beginners will first learn how to safely roll and take falls. Each class starts with exercises to get your muscles warmed up, get ready to practice and have fun learning techniques with your partners.
Classes are held Saturday mornings at 10 AM, Wednesay evenings at 4:15 and Thursday evenings at 6 PM. Once you have paid your monthly dues, you are welcome to come to as many classes as you can. Please come to class 10 - 15 minutes before class starts to have time to change and bow in by the time class is ready to start. The more classes you attend regularly, the better you will learn Aikido.
Dues are $25 per month and should be paid by the first class of the month. If there is a second child that comes to practice, the monthly fee is $20 per month for that child. Once you have practiced the required number of hours and have learned certain techniques, you may test for different ranks and earn different color belts.
See you on the mat!